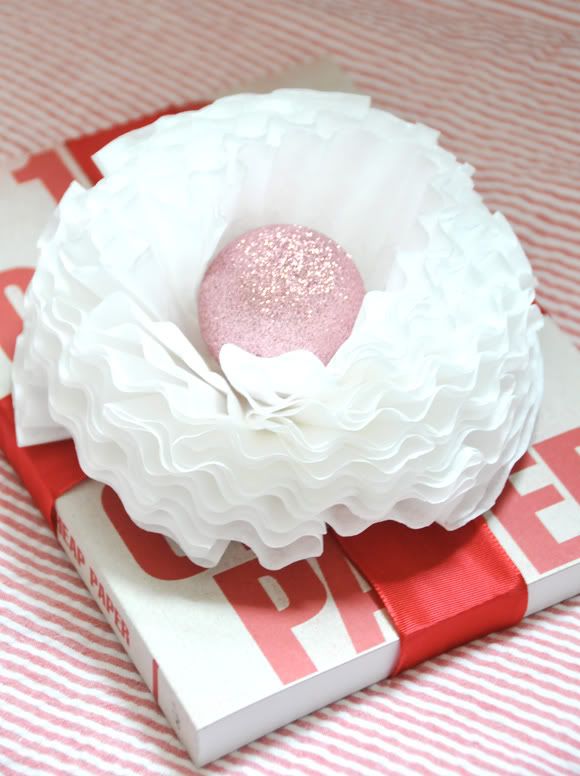 This past Summer when I began working on projects for Gifted Magazine I discovered that coffee filters are an awesome multi-purpose crafting supply (I guess I kind of already suspected as much, but anyhow). As with a lot of the projects I make, I start with a simple object (such as coffee filters) and just begin messing around with it until it starts to become something. Usually this results in a giant pile of not-so-cute, destined for the graveyard of d.i.y. fails. But every once in a while something takes shape that I like. Martha Stewart has busted out countless projects using cupcake liners (like these Hanging Ball Decorations and Cupcake Paper Carnation Gift Toppers), and coffee filters seemed just like giant cupcake liners to me (therefore just as easy to use). I ended up folding, punching and stacking a bunch together and created a fun Hanging Pom Pom (perfect for party decor) and a Ruffled Gift Topper (you can also use it as wall decor - see the last image). Have fun!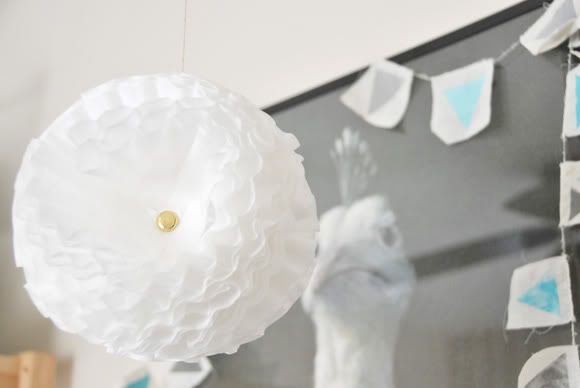 Here's how to make 'em:
Supplies: Coffee filters in either natural or white (12-18 per topper | 24-32 per hanging pom pom), Large metal brads a.k.a. brass fasteners (I purchased mine at Office Depot), 1/8" Hole Punch Tool, twine (optional), ornament or small object for center of gift topper (optional).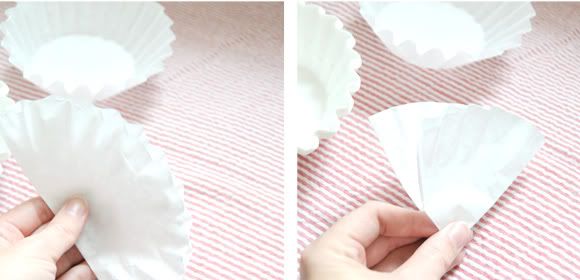 Step 1: Fold filters (one at a time) in half.
Step 2: Fold in half again (repeat for all).
Step 3: Punch a hole in the corner of each folded filter.
Step 4: Insert your brad through the punched hole.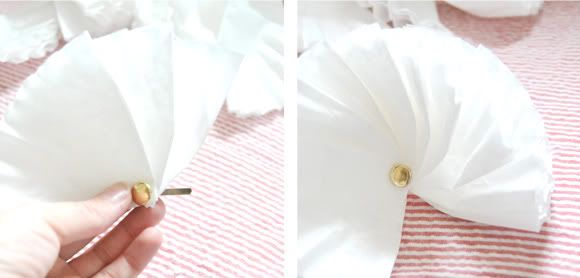 Step 5: Add prepared filters to the brad - stacking behind your first filter. Take care to keep the folded edge of your filters facing the same direction.
Step 6: As you add filters onto your brad you will begin to fan each one out. Don't worry about it looking perfect at this point.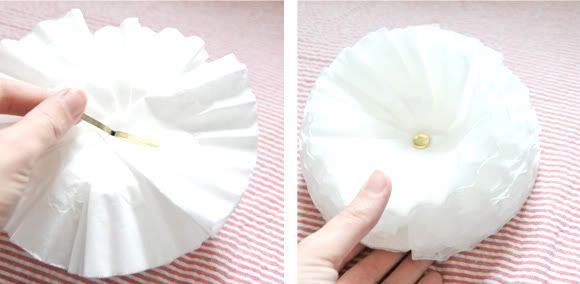 Step 7: Once your brad is full, turn over and open the brad to secure.
Step 8: Move the filters around (they will rotate fairly easily) until the desired shape/fullness is achieved. If you will be using as a gift topper (or whatever other use you dream up) you can stop at this point.
If you would like to make a round pom pom (like the hanging one shown above) you will attach two completed filter pom poms together on the back using a piece of twine or hot glue. Hang with twine.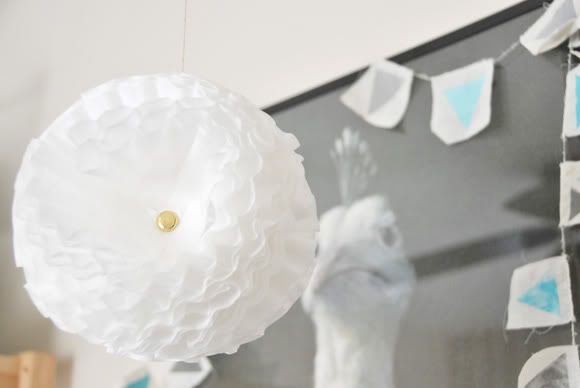 Hang two together to make some fab hanging decor. Perfect for your next party.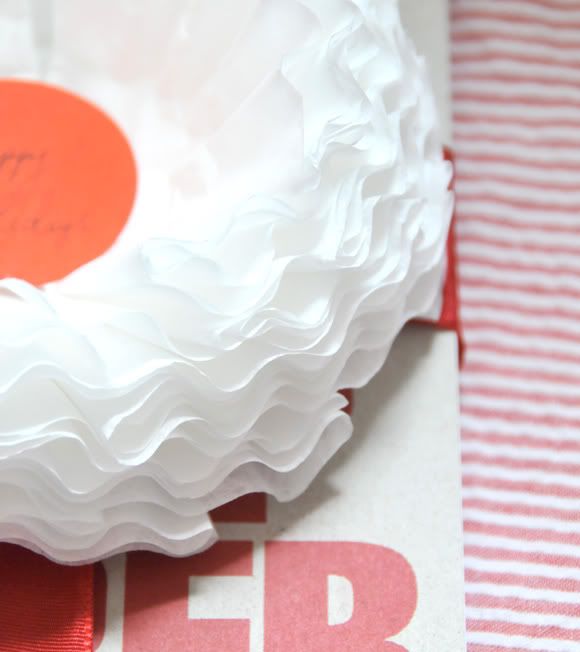 Dress up the middle of your gift topper with an ornament (seen in the first image) or a pretty disk of paper printed with a special message or addressed to the lucky gift recipient.
Courtesy:
creaturecomfortsblog